For a few months after I was hired at Differential, when friends and family asked about my new job, they were shocked to find that I was the only female employee, and furthermore, that I was comfortable with that. "What's it like being the only girl?!" "How awful that must be!" I didn't even know how to reply to responses like this, because being the only woman hadn't bothered me at all.
My gender has never been something that has hindered my capabilities to achieve. I have been able to be myself while playing sports, picking up hobbies, and excelling in school and at work without major discrimination. I have been blessed with encouraging mentors, teachers, friends, and family that have helped me overcome any issues that arise from gender bias.
Unfortunately, my case is pretty rare. If you are in the tech industry (or, if you've ever used the internet, really), I'm sure you've seen or heard a few horror stories of women who have struggled through different hardships while working in or around the fields of technology and startups. To state the 'problem' simply: there is a large gender gap in these industries. There aren't enough women in tech, or women in startups. It can be difficult to find accurate statistics that show exactly how well women are (or aren't) represented in this space, but things like Tracy Chou's spreadsheet can help serve as a reminder that women are still the minority in this industry.
Startup Weekend: Women's Edition
You'll notice that Startup Weekend faces the gender gap problem - there are definitely more men than women that attend their events. I searched high and low for an accurate report of the average number of women that attend most startup weekends, but again, these numbers aren't always accurately represented. Go ahead and attend a startup weekend though, and you'll quickly realize that the ratio of men to women is generally more than 2:1.
We could speculate on the reasons that this might be, but it's hard to say for sure. Maybe it's the environment that surrounds the startup culture, creating barriers to entry or causing many women to get out. It could be because there are more men than women in the industry, or perhaps it is the fact that women and men are just hardwired differently. It could be that we haven't found a successful way to market the event to women. Whatever. We could argue all day about what really causes the gender gap in tech, but we probably wouldn't get there. The bottom line is that the Startup Weekend Cincinnati organizers recognized the problem, and decided to help fix it by hosting Startup Weekend Women Cincinnati.
What changed?
What was different about this startup weekend compared to others?
The event was smaller than usual (about 30 people compared to the 100 that we got in the fall)
There were more women than men participating (bet you could have guessed that one)
Our coaches and judges were all awesome women from the tech, startup, and business community in Cincinnati
Because of these factors, the projects pitched may have been a little different, and the energy and environment were definitely affected, but otherwise, the event ran in a similar fashion to any other startup weekend. I feel confident saying that everyone learned something by the end of the weekend. Organizers, participants, coaches, and judges alike learned at least a thing or two. The pitches were outstanding, and it was awesome to see that everyone really grew and worked hard on their ideas over the weekend. But, even after the final presentations, the best was yet to come.
The 'next step'
Startup weekends have many purposes - they teach people how to become better entrepreneurs, bring people together, and sometimes even help people start real businesses. But, a small fraction actually makes it as companies, because most do not take the 'next step.'
Once the final presentations were over, we all anxiously waited for the judges to decide the winning team, and couldn't imagine what was taking them SO LONG. But, in the end, it was worth it. Before announcing the winning team from the weekend, Wendy Lea, CEO of Cintrifuse, gave all the teams the advice of specifying exactly what their 'next step' would be. "Plan out exactly what you need to do next to move forward," Wendy said. "We need the help of people like you to help our startup economy and community continue to grow. Pay forward all the help you got at Startup Weekend!"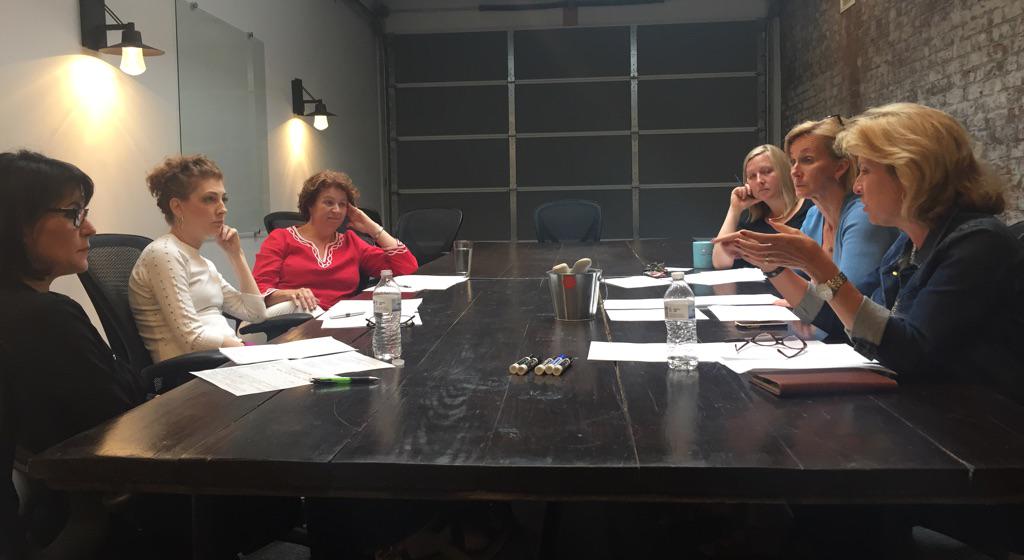 Above: the judges deliberate at Startup Weekend. Clockwise from the left: Johnna Reeder, Valerie Jacobs, Joan Lewis, Naashom Marx, Wendy Lea, Julia Poston.
Wendy leads by example - she and the other judges definitely paid it forward by what they did next. The amazing women that made up our inspiring panel of judges not only decided on a winner but came up with ways that they could best help each of the teams that participated. The judges offered up advice to each team and even promised their own time and personal connections to help these teams take the next steps to improve the startup community.
#
#StartupCincy I would say I was surprised at the support we received from the Cincinnati startup and business community when putting on this event, but I'm not. Everyone we talked to when organizing this event was extremely quick to help. Sponsors were happy to provide support for the event; coaches were excited to take time out of their weekend to provide help to the participants; judges had no problem spending their Sunday evening critiquing the final pitches; friends, family members, and co-workers offered to help in any way that they could. Cincinnati proved once again that this is a city that puts community first, and that the community is in full support of women in tech and startups.
What can you do?
So, now that you've read this post, what is your 'next step'? You can think to yourself 'Wow! What an inspiring community!', close this tab, and go along your merry way, forgetting about the problem at hand.
Or, you can think about a woman in this industry that you know and care about. If you'd like to help others like her, become a part of the support system! There are a few simple things you can do to help:
1. Mentor women
Don't shy away from mentoring someone just because they are not the same gender as you. Men don't have to mentor other men, women don't have to mentor other women. Most of my mentors have been men, and they have been nothing but helpful and supportive of me as a woman in this industry.
2. Recruit women
In order to get more women in tech, we all have to work harder at hiring women at companies in this industry. Try reaching out to women who might be a good fit at your company or in the startup space rather than waiting for them to come to you.
3. Support women
Look at the women who currently surround you, and treat them no differently than you would treat all your other co-workers. Help them when they are in need of assistance, but know when to let them be independent. Treat them with respect, and show them that you are there to support them in their careers.
One step at a time we can get more women in tech by supporting them, and helping their experience in the industry be a positive one.